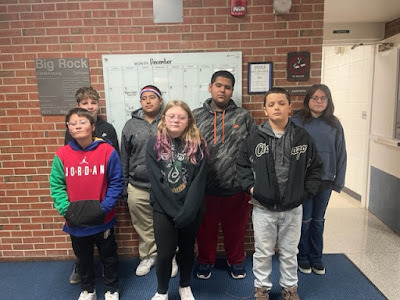 Back Row: Braxton Holcomb, Armani Lara, Giorgio Lara, Livyanna Trujillo,
Front Row: Alberto Trujillo, Meegan Kubinski, Raymond Johnson
As our 2nd quarter winds down, HBRMS wants to take this opportunity to have our new students reflect on their year so far. We all know how hard it can be to start somewhere new. Just ask Mrs. Torman. Each year our teachers and students make it a priority to build and maintain a school culture that is welcoming to all students. We hope our new students feel part of our HBRMS community. The staff all look forward to having our students continue to grow socially and academically throughout second semester. Welcome to the HBRMS family and we hope you have a great winter break.
Megan Kubinski - Holy Cross, Batavia
I enjoy the school because the teachers are nice. Everyone is very welcoming and kind. The school is very open to new students, and I enjoy being here. Mrs. Torman is my favorite principal.
Braxton Holcomb - Sandwich Middle School
I was little scared starting in a new school this year after my family moved from Sandwich. Students here are nice and for most of the time we all get along. My favorite class is Mrs. Decker's art class. I also enjoy playing basketball with my teammates and Mr. Bastian my coach. Lunch is awesome we can eat outside and play volleyball, soccer, and play on a playground.
Armani Lara - Troy Middle School, Shorewood
I was nervous about how the people would treat me being new to HBRMS. Students here are nice and easy to get along with and have become friends of mine. Teachers are also nice, and the school is not too big or too small. The size of the school made my life easier finding my classes. I appreciate the opportunity to learn some Spanish during lunch with my friends and the custodian Ms. Ruiz.
Giorgio Lara - Troy Middle School, Shorewood
I was worried about fitting in and making new friends but having my brother with me helped my nerves. HBRMS seems to be a little more relaxing than my other school because it is smaller than Troy. My favorite class is ELA with Mrs. Biletzky she explains things to me simply and helps me when needed. I am looking forward to summer already because I am planning on getting a job before going to HS.
Alberto Trujillo Chaney - Monge Middle School, Crest Hill
I thought I would be shy at first, but I wasn't! I fit in well and tried my best to listen to all my teachers. I walked around the school with Mrs. Nokes at first but then a few students showed me the ropes. I tried to do my work in all my classes and wondered if my teachers were going to be nice. Now that I have been here a month, I like all of them especially Mrs. C. even when I can be challenging. I like the lunches because I play soccer and go outside even when it is a little chilly.
Livyanna Trujillo Chaney - Monge Middle School, Crest Hill
I was nervous that this school would be scary big because it is the first time I went to school with two floors. The students are funny and welcomed me and have been nice the past month I have been here. I like having a study hall during lunch where I can get caught up on my schoolwork. I am looking forward to my grades improving as I settle into the routine.
Raymond Johnson - Eisenhower Jr. High, Darien
When I first started in the middle of the school year, I was nervous about moving and making new friends. After the first week students were friendly and welcomed me to play with them during lunch. My favorite class is Mrs. Stanislao's science class because we get to do fun labs with water displacement which made a mess on the science tables. I look forward to getting to do possibly art sometime the next two quarters.
Vanessa Bazan - Harter Middle School, Kaneland
The first semester at HBRMS so far has been fun. The teachers are all so sweet and if you ever need help, they are always there to listen and be there for me. I joined Cheer and Volleyball and those were so fun. I enjoyed going to HBRMS and playing volleyball and cheering on the Royals. The school is super fun and I'm so glad I moved her from my bigger school. Go Royals!
Lincoln Niedorowski - Thompson Jr. High School, Oswego
I have enjoyed my time here because of the teachers, the fun environment and some of the students who I became acquainted with in the mornings. Some of the things I enjoyed the most include Mrs. Stanislao's science exploratory class and all the fun activities we get to do. Mr. Novotny's different teaching methods and sense of humor compared to my old school's PE. I also enjoy the community and culture you all have established here at HBRMS
Donovan Zunun - Springwood Middle School, Hanover Park
When I first arrived at HBRMS. I was very excited to learn about the smaller number of students and nicer facilities compared to my previous school, so far, those two factors have been very evident since my arrival. The school feels much safer, and all the teachers and staff members are incredibly nice, the school doesn't feel as crowded as my previous one where one grade there would equate to nearly all students here. The students here are very welcoming and well mannered. Overall, this school is by far the best I've ever been to, it's very clean, organized, and safe.