This school year marks my 7th year at Hinckley-Big Rock and while traditionally, we celebrate these things on the 5's and 10's, this 7th year has been especially important to me. This is because my first set of 6th grade students will be graduating this year. I have seen an entire group of students grow from wide-eyed, excited 6th graders into young adults ready to take on the world ahead. I remember in my first days with this group of students telling them that we were similar to each other - we were both in a new space, with new experiences to be had as we navigated HBR. A few of these students would go on to take an art class for all of most of the following seven years. They would have me as one of their teachers until they graduated and I would have them as one of my students until I was *gasp* 30.
Now that we have entered this year, I wanted to take some time to reflect on the changes and the similarities from my first year teaching. One of the things that comes to mind is a white board mural that I made in my middle school classroom at the end of my first year. I had asked every student that I had in class at the time what they wanted to see and I drew it all into one big mural.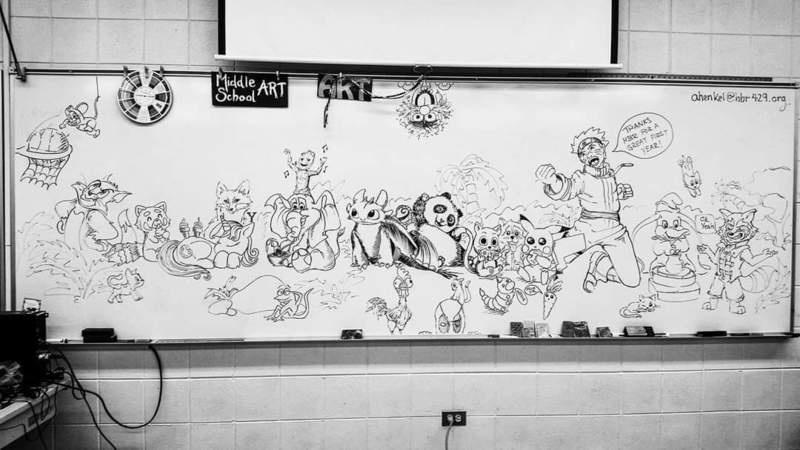 Up to this point I had been drawing different doodles weekly throughout the year and had a pretty interesting collection. But, this took entirely too long and I remember thinking to myself: "I don't know if I can keep this up". The reality was that I was correct, I could not do this every week. Over time, I would doodle less and less on the board, until the act almost disappeared. That was until this year, when a student of mine, a senior from that first class of 6th graders, visited my middle school classroom and asked if I still doodled on the white board. It had been one of his fond memories from middle school. I was sad to say that I didn't. I could say that it was because of time, which in a way is true, but I also missed that part of myself. So, together, that student and I asked the class what I should draw, and we came up with: "Mr. Jourdan bringing a Frankenstein chicken to life". So that is what I drew. My students enjoyed it and I enjoyed allowing myself the time and space to draw again. Something that my first-year teacher self knew that I should never let go of.
While it may not always be some strange doodle on the whiteboard of my classroom, I understand that moving forward I need more of those moments in my classroom and looking back, I have so many other fond memories of creative endeavors with my students. Over the past few years, we have been expanding our efforts off paper and whiteboards and onto the walls of HBR. Currently, at the high school there are two in-progress murals that are reaching their final stages. The first was started by a 2022 graduate and is being completed by a hard working team of art club students that meets after school. The second was a collaborative effort between myself, the HBRHS History department, and students. Together, we have created a US-themed mural that encompasses several portraits of important figures. It is an effort that is currently being led by some of the very same students that were in my first 6th grade class.
In addition to mural-making, I look forward to other new adventures coming to the art room. A classroom set of iPads will allow students to learn and explore the art of digital illustration and animation; two forms of media that I have become familiar with in the past few years. These devices will also deepen our practice in photography and editing. Along with new tools, there will also be two new classes added to the art curriculum: Photography and Design I & II. Both of these courses will build on the traditional and fine art approaches of my past photography classes, but will also include the practical applications of photography in marketing, journalism, and our very own yearbook's design.
I am excited for what is to come in the years ahead, but also nostalgic for the years that have passed. Every once in a while I think it is important to look back on our former selves or have others remind us of the little things that used to and can still bring us joy. Especially after these past few years, it's essential to reflect, but also reevaluate how to get back to our new normals - our new betters. For me, it's taking the time to create silly drawings, but balancing that time with learning new tools and skills. So, I am happy with these last 7 years and am proud to have worked with the class of 2023 - They have kept me creative and I hope I did a little of the same for them too!