December Lunch Menu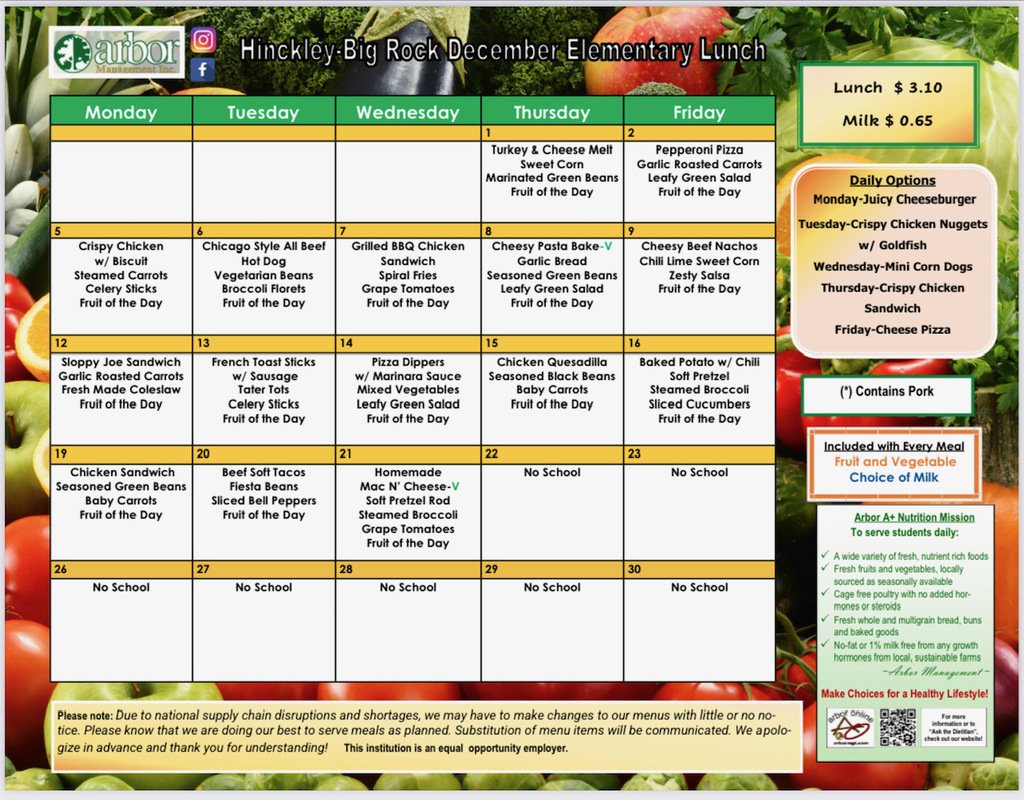 Please check our lost & found items. This week all remaining items will be donated. There are many sweatshirts, some winter coats & lots of odds & ends. If you see something in the photos that belongs to your child, feel free to call us so we can grab it & send it home with him/her. Thank you!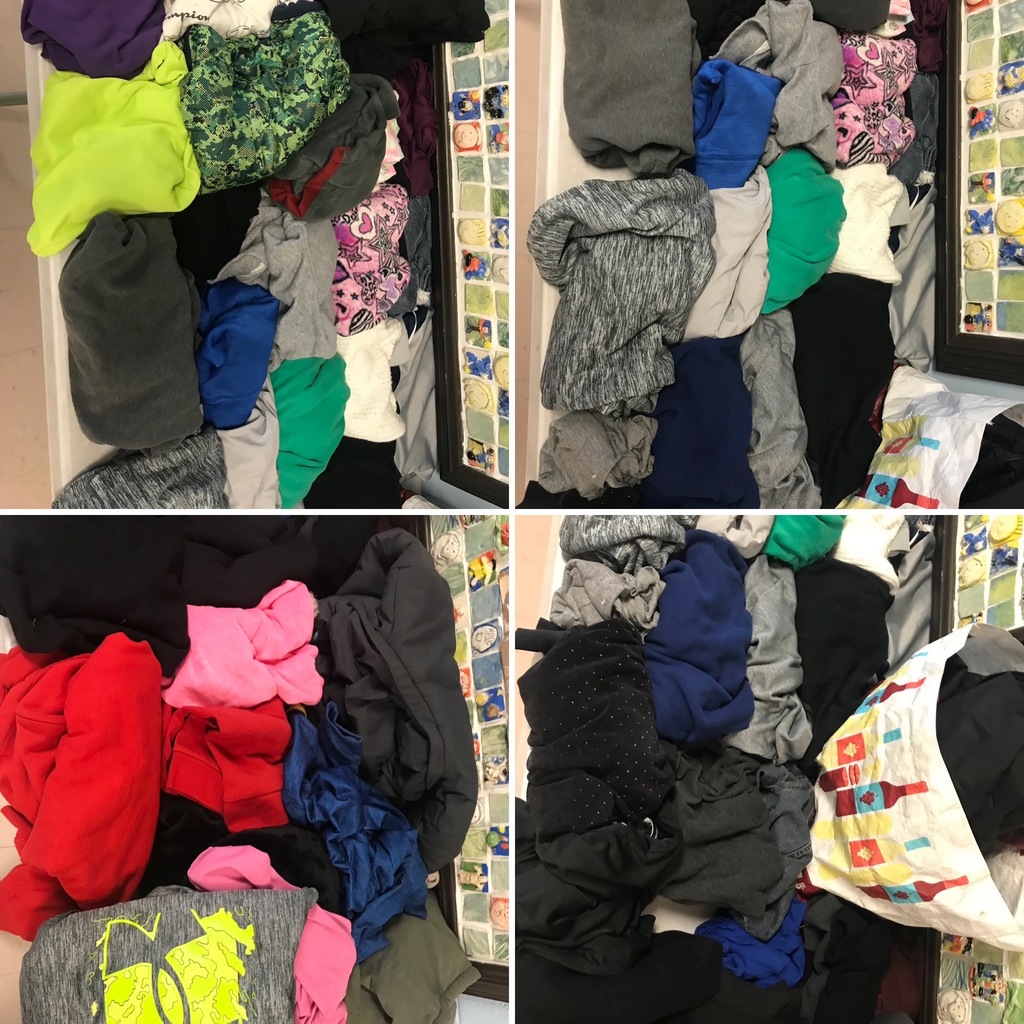 Our 1st graders wrapped up a literacy unit on the body today. They were busy doctors doing some very serious operations! 🩺🩻🧠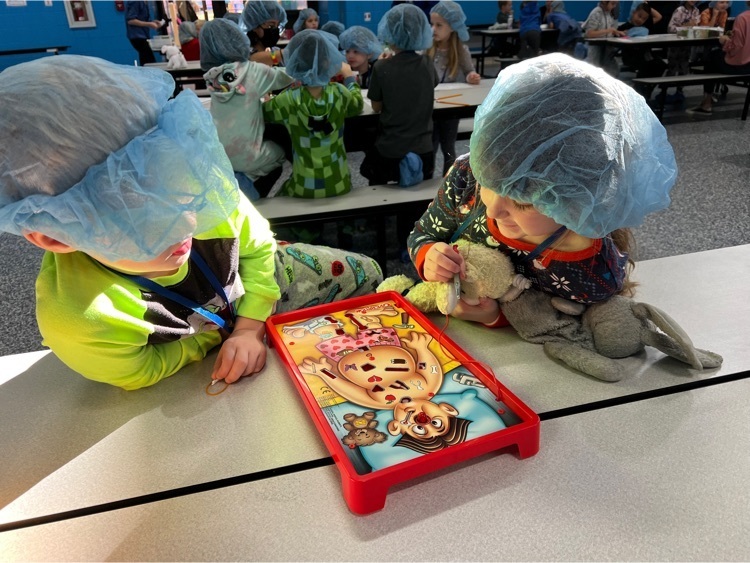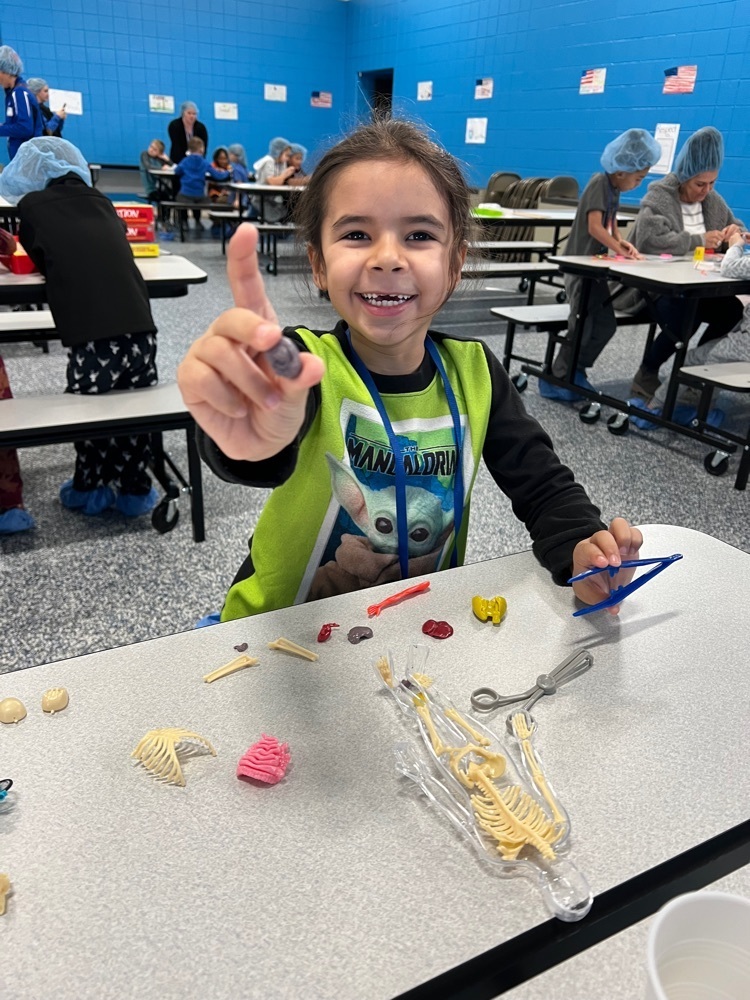 This month we've been talking a lot about gratitude. Our 3rd graders, with Student Council's help, made a gratitude wall that each person contributed to. It's a colorful reminder of just how much we have to be grateful for! #HBRThankful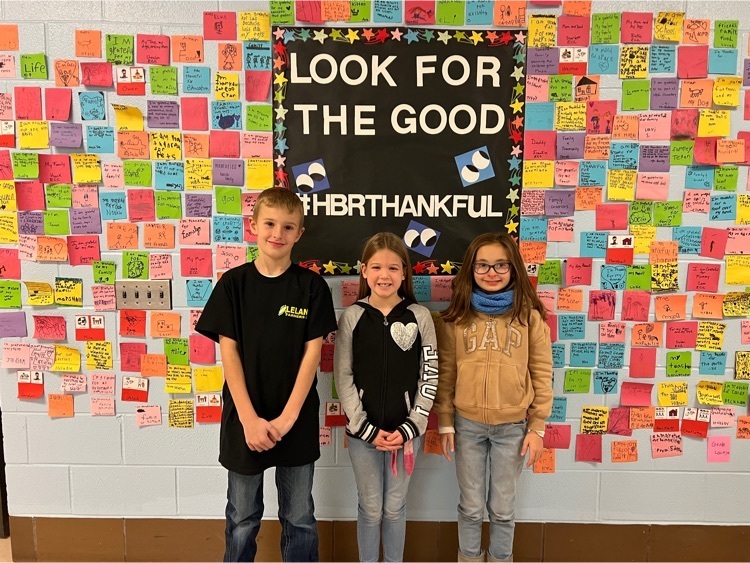 Did you see the winter weather advisory?! Please remember that students need snow boots to play outside in the snow. Coats, hats & gloves are important too! ❄️⛄️🥾🧤🧣(Please put your name on everything!! Our lost & found is overflowing!)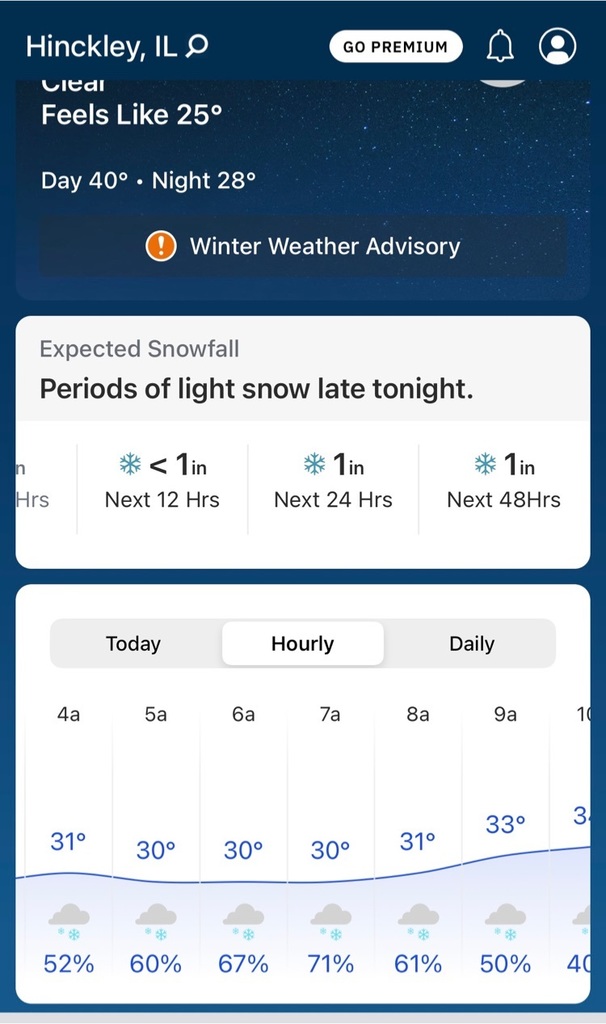 Our Veteran's Day breakfast is this Friday at 7:45am. RSVP here:
https://forms.gle/We3o8EbRUgMjYK4t6
The assembly is at 8:45am. Families are all invited! It is an honor to celebrate all of our Veterans!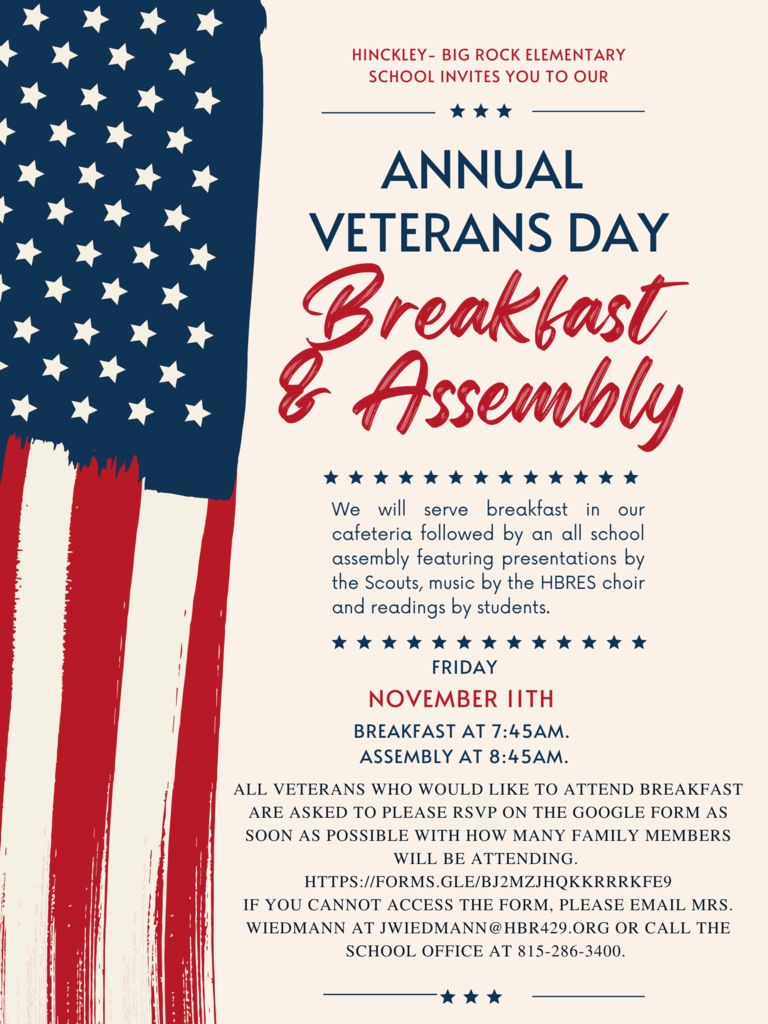 Good morning HBR families! Just a quick reminder that the last chance for Inboden's Pie Pick up is TODAY from 9:00-11:00 am. *Any Pies not picked up will be donated to the Hinckley Area Food Pantry! NO REFUNDS ON FORGOTTEN ORDERS!* Pick up will take place near CIRCLE DRIVE. Email Nikki Beane at
ninibeane99@gmail.com
with any questions or concerns. Thank you!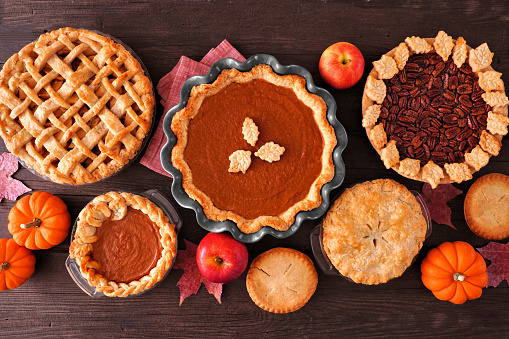 Tomorrow (Friday) is our Picture Day Make Ups for anyone absent on the original date. We can also do re-takes- please send original photos with your student to return. Thank you!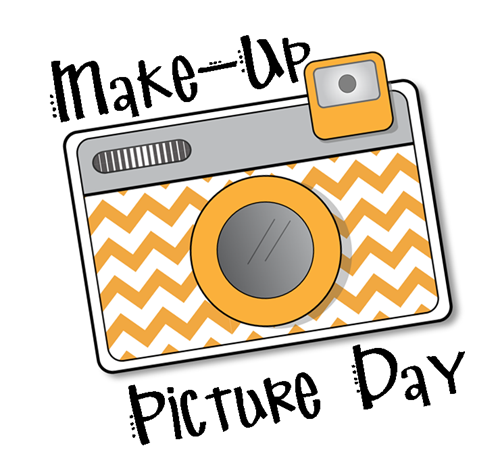 We are very excited to once again host our annual Veteran's Day breakfast & assembly on Friday, November 11th. Our breakfast on 11/11 at 7:45am is for all veterans and their guests. (RSVP is necessary.) The assembly will be at 8:45am on 11/11, for all students and families. The breakfast RSVP link is here:
https://forms.gle/FPttV6NAGGgZe6j16
If you prefer, please call our main office to RSVP for the breakfast, letting us know veteran's name, their student guest(s) and how many will attend breakfast. Our main office number is 815- 286- 3400. You can also email
jwiedmann@hbr429.org
.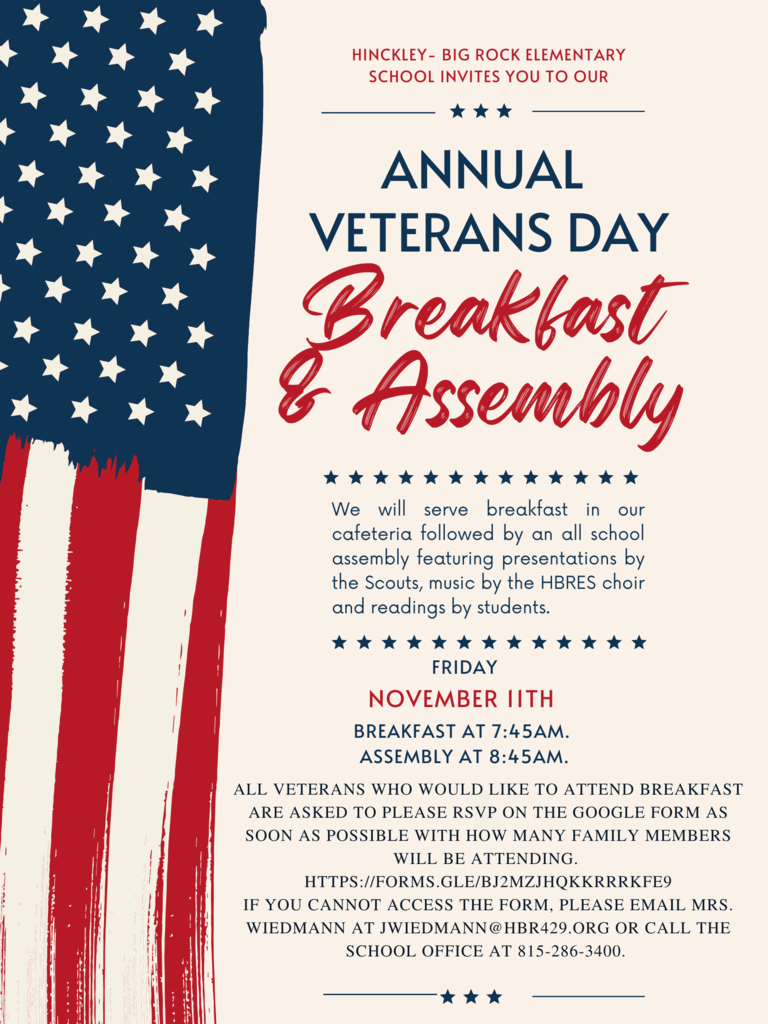 November's Lunch Menu
Good afternoon! It has been brought to our attention today that many families have not been receiving our email communication since approximately mid-October. In addition to emails, we do send short text reminders, which we believe are reaching everyone. Our IT department at the District Office has been made aware of the tech error and are in the process of rectifying it. We will re-send emails as soon as the group lists are re-built. Our apologies for the seeming lack of communication.
🎃We had fun Halloween parties and a fantastic costume parade today!👻 Thank you to our room parents for helping make it a great afternoon!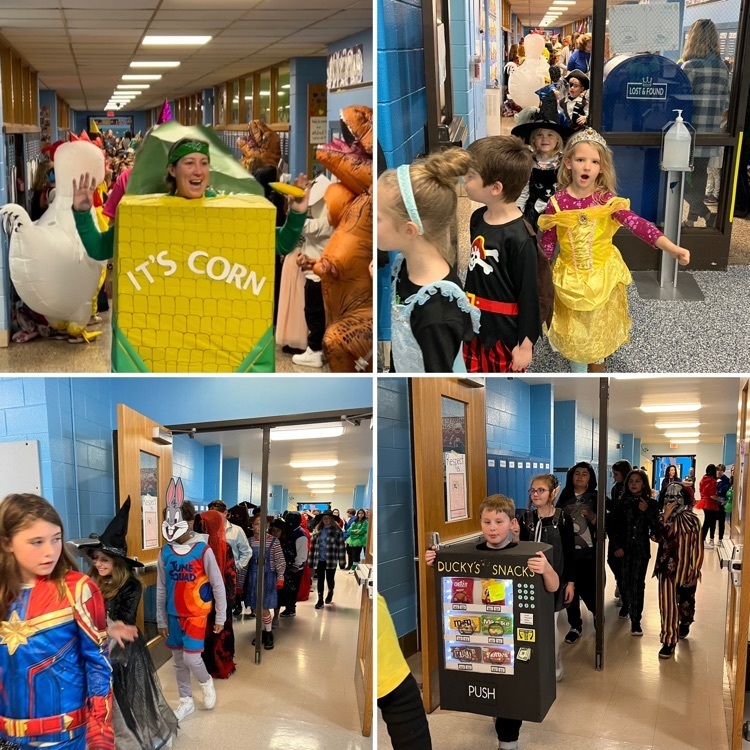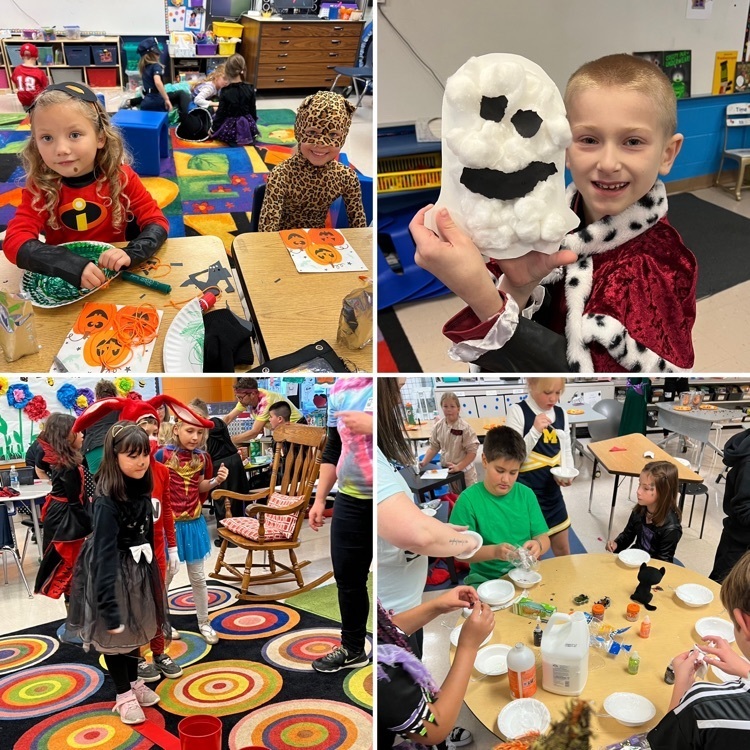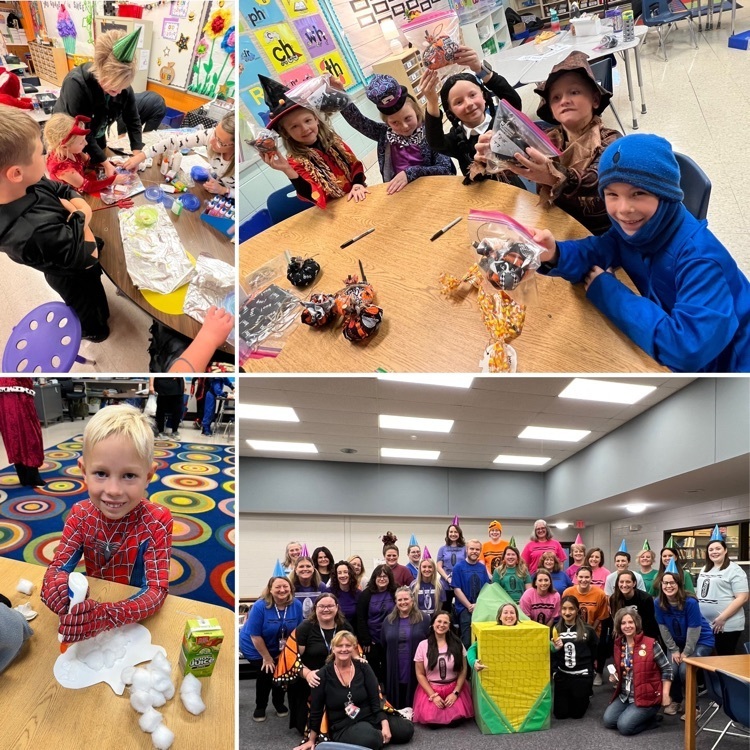 The Hinckley-Big Rock #429 Board of Education recognized the HBRES STEAM program as the recipient of October's Royal Shout Out! Eil, grade 3, and Claire, grade 4, demonstrated the low-tech and high-tech circuits they created in class. Thank you Mrs. Delisio for bringing STEAM to life at HBRES!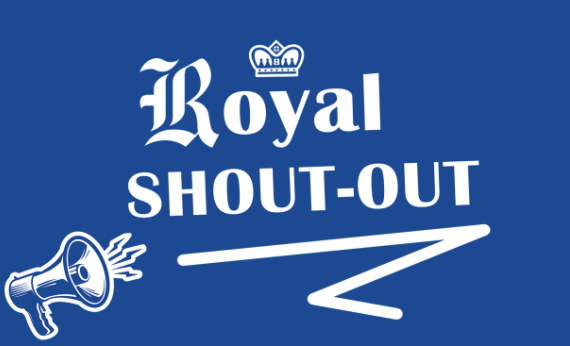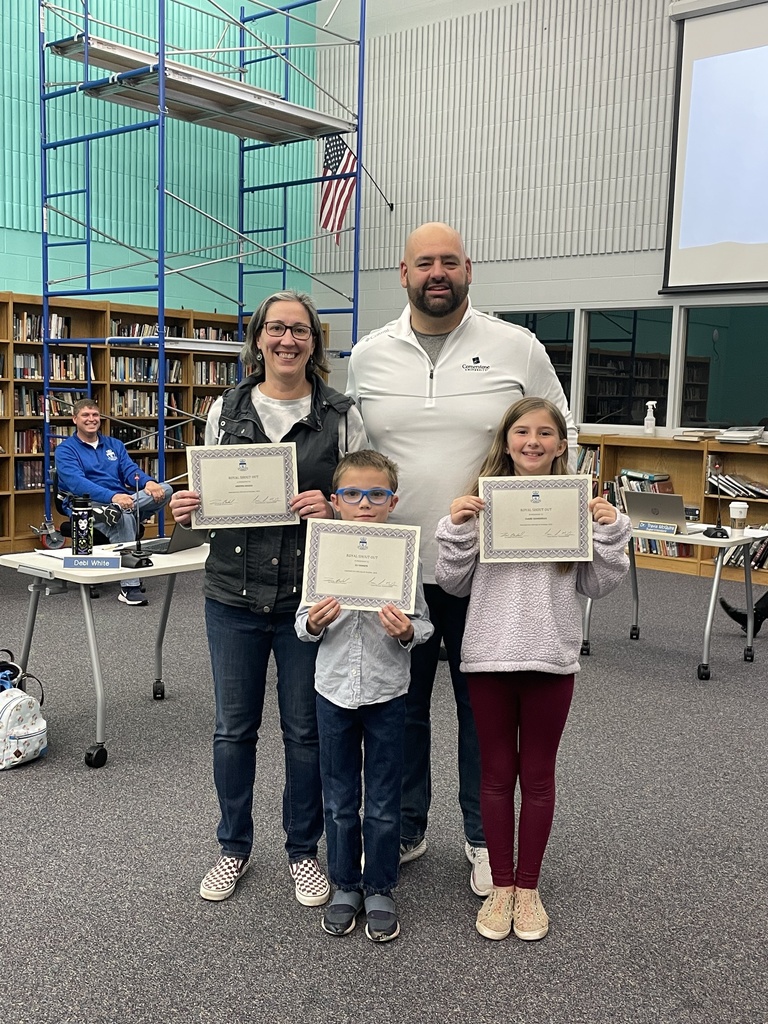 We had so much fun at the PTO STEAM Night! Thank you to everyone who came out! We can't wait till next year- we'll have even more supplies! Special thanks for Mrs. Willey and Mrs. Delisio for planning a fun event.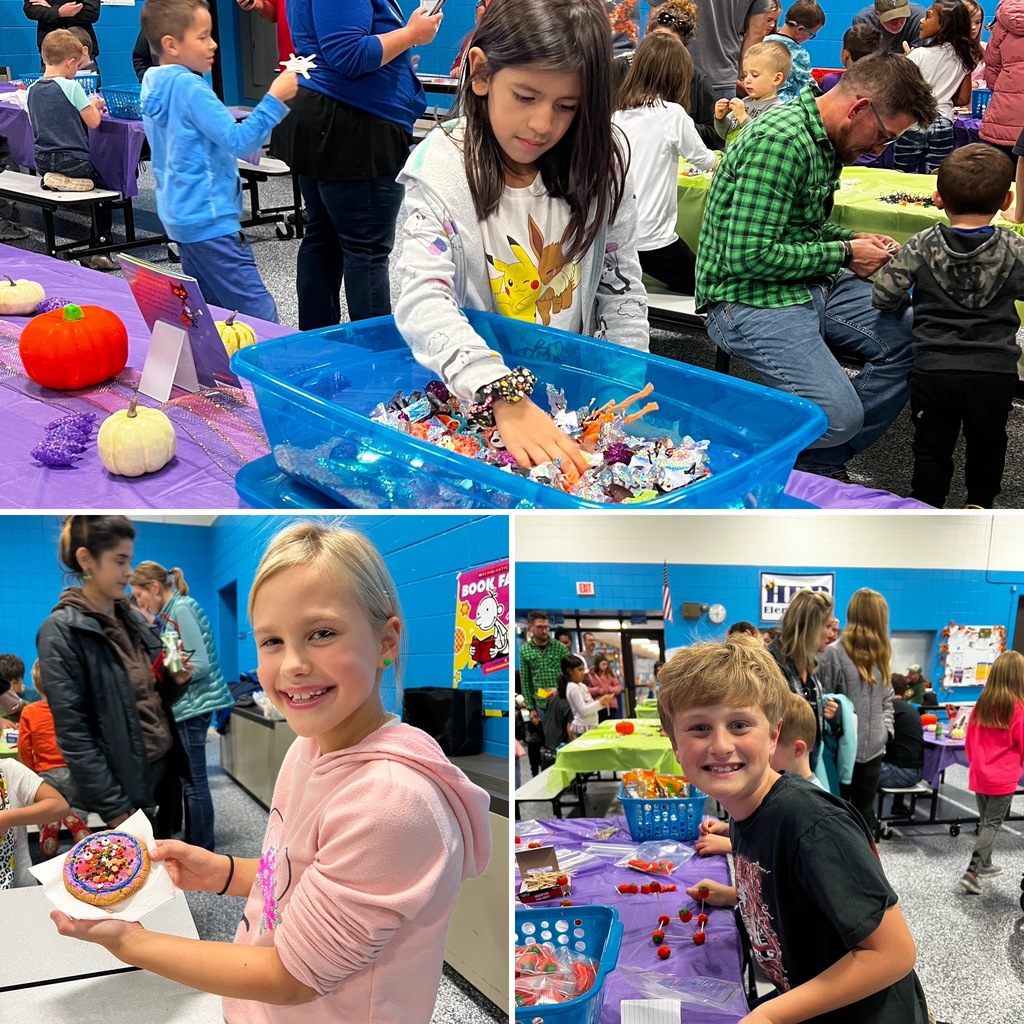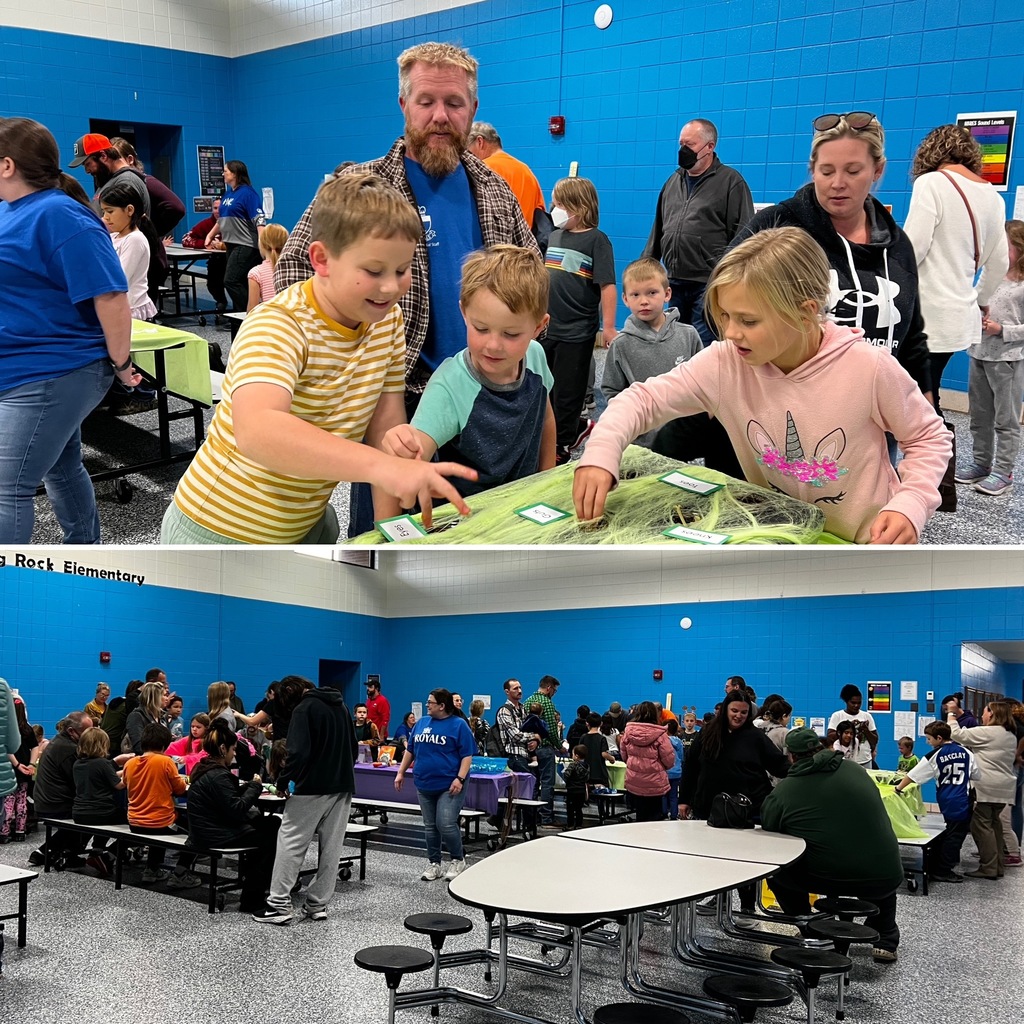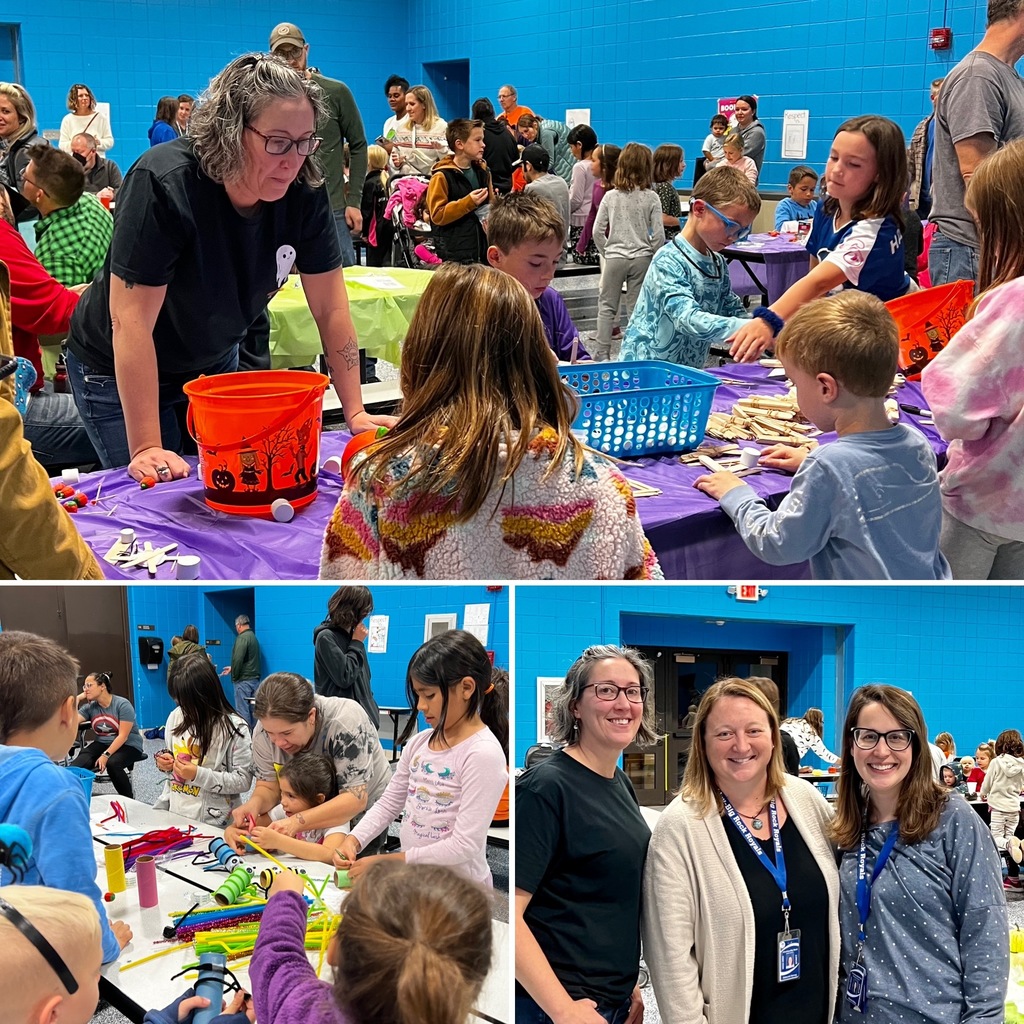 Attention all Hinckley, Big Rock and beyond Veterans or active/retired military members! It would be our honor to have you join us for our annual Veteran's Day breakfast and all school assembly on November 11th. Please see our flier for more info. Please invite anyone you know and help us spread the word.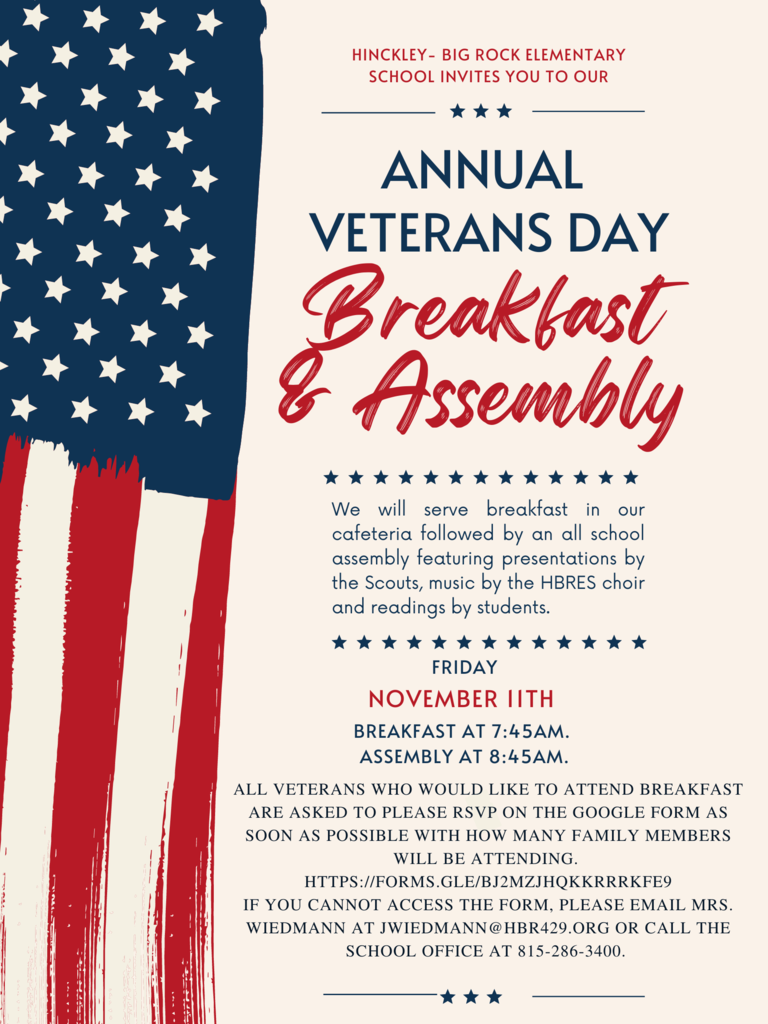 Check out our October Info email that went out Wednesday evening with TONS of info about this month!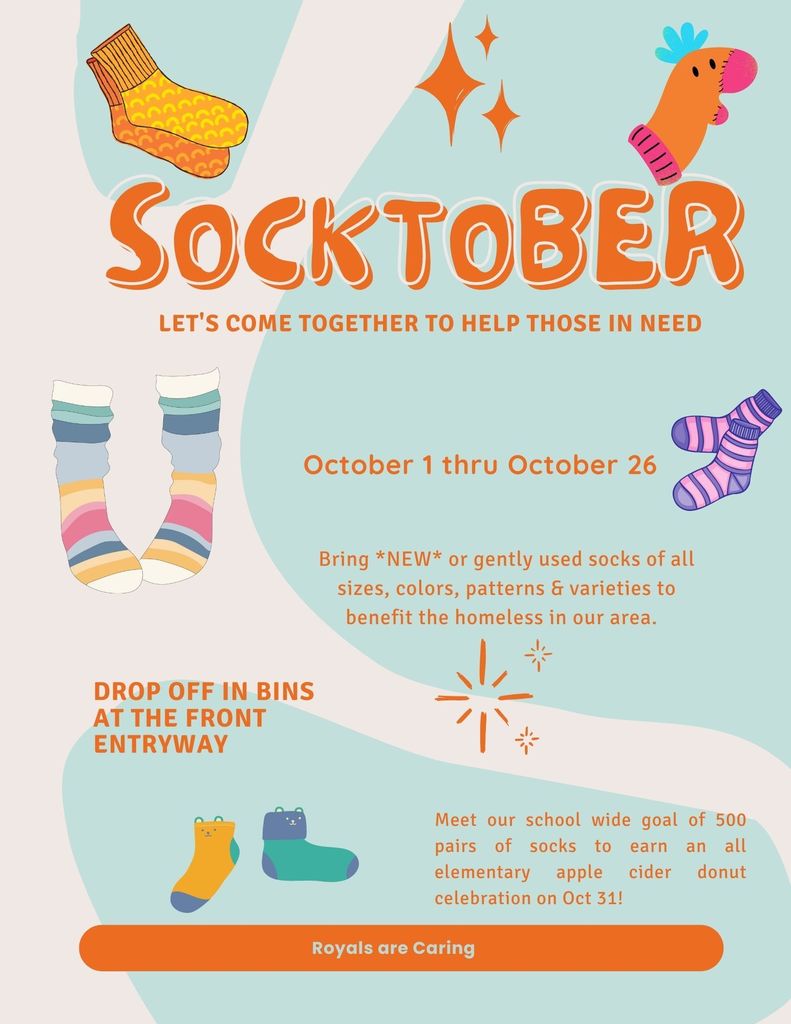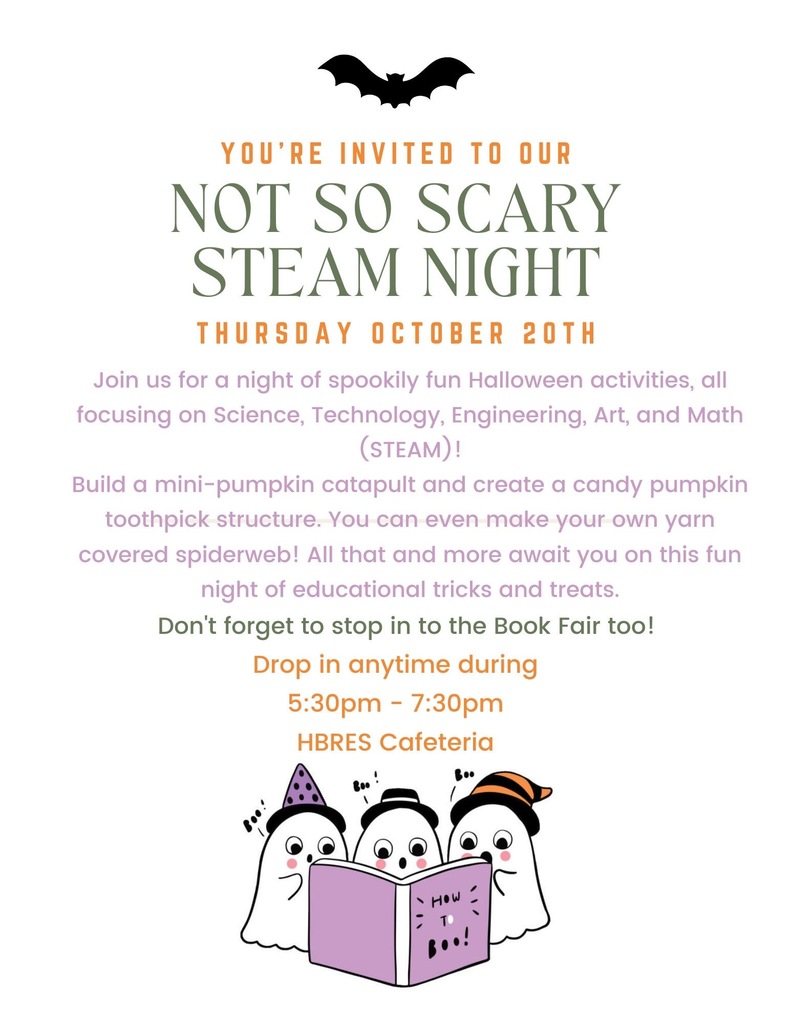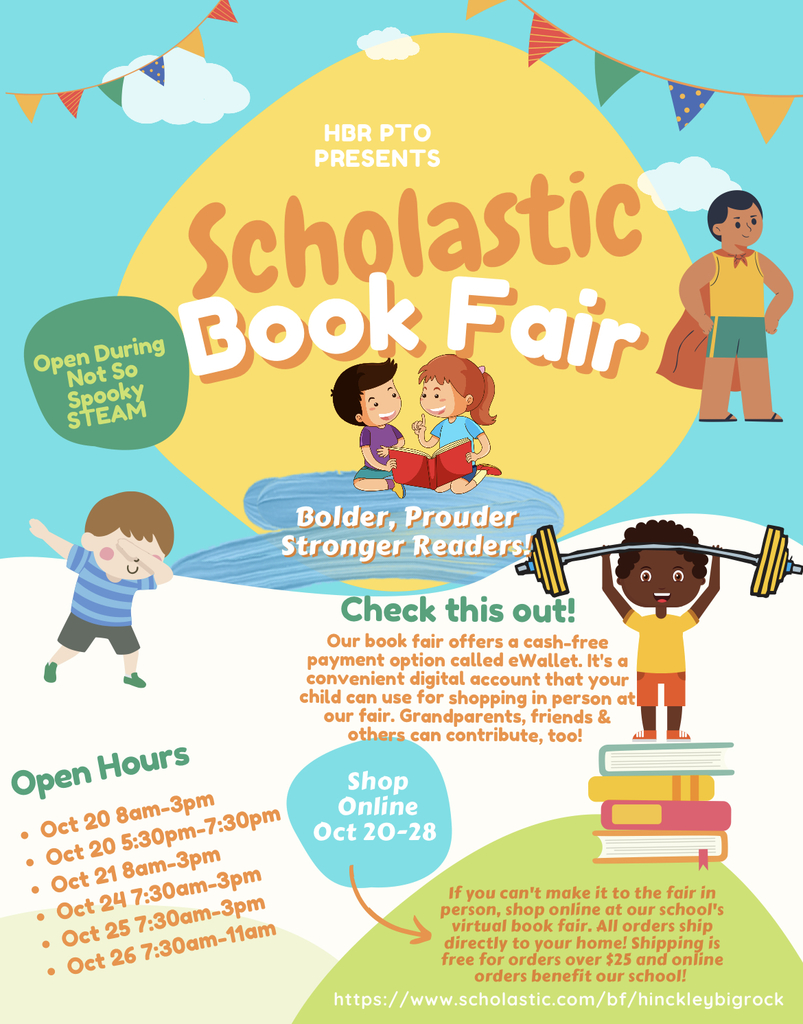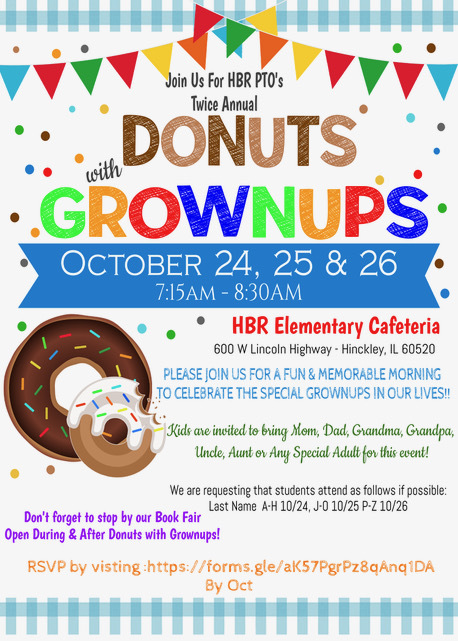 We had a fire drill this morning with the Hinckley Fire Department chief. The staff & students all did a terrific job. Thank you!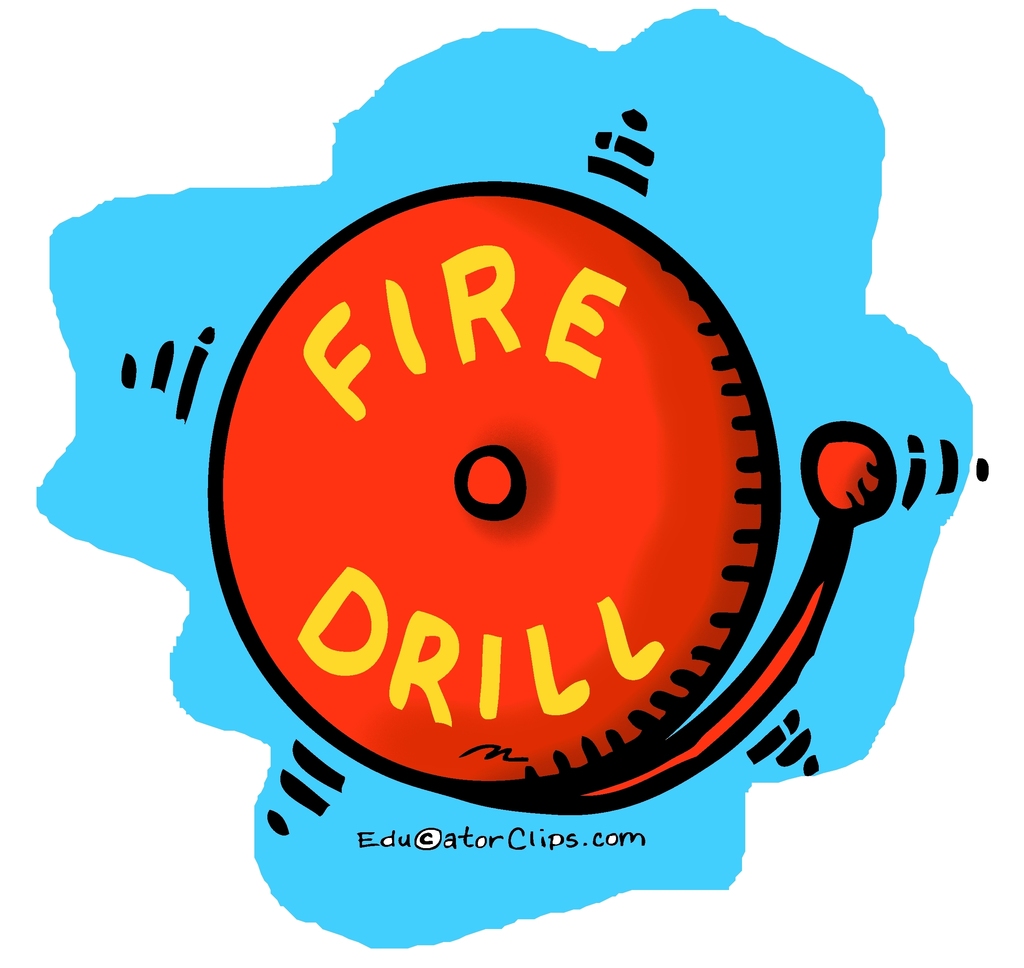 We had a blast at our annual Walk A Thon! Special thanks to our many volunteers who helped make it a successful day. It's not too late to donate- PushCoin or drop a check off at school till 10/14.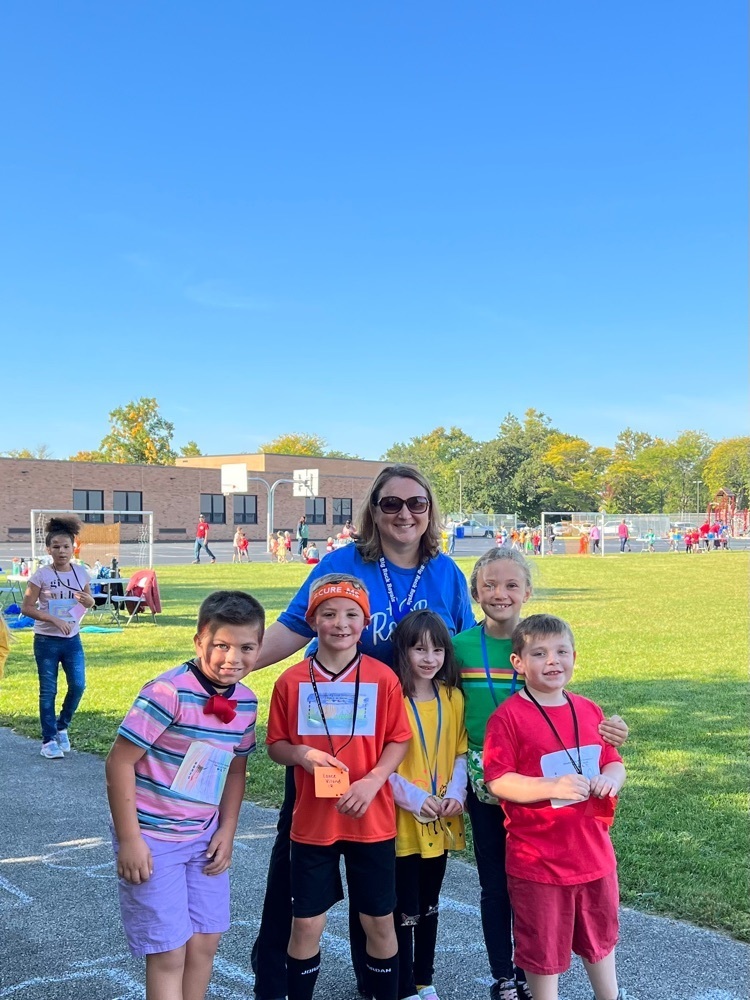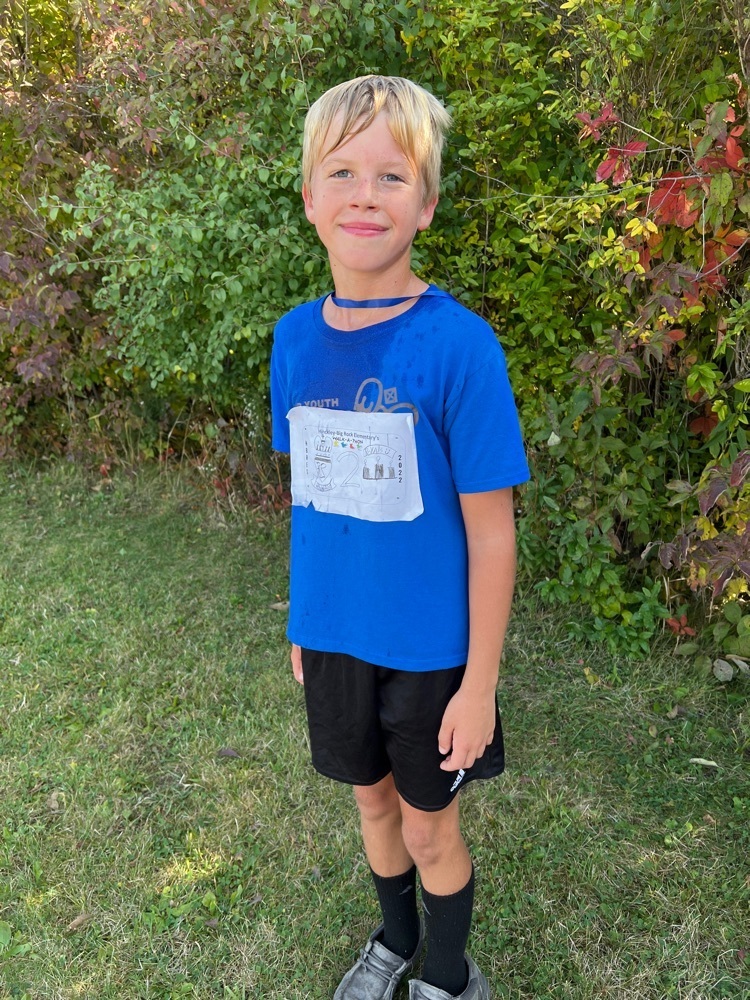 It's here! TODAY is our WalkAThon! Send in your fundraising donations to help us meet our goal! Wear your team's color & bring your water! It's going to be a great HALF day at HBRES! EC/K❤️1🧡2💛3💚4💗5💙
Today we had Mr. Jordan Lynch serve as our Principal for the Day! (Jordan's grandma won this at the Casino Royale silent auction!) Mr. Lynch spoke to the staff at our 7:30 staff meeting, he did AM & PM announcements, worked the phones, gave out birthday cards, read to several classes and of course, we fit in a lunch break too- among other activities! It was a busy day for Mr. Lynch- he did a fantastic job!! Loved spending the day with you, Jordan!