NIU is excited to offer a special ticket rate for Tuesday's Huskie Men's Basketball game as they take on the Indiana State Sycamores. The Huskies are off to a HOT start as they are 5-1 in their last six games. Check out the details below!
December Lunch Menu
Have a safe holiday season Royals! #KeepTheWreathRed
At the November 15th Board of Education meeting, two groups were honored with a Royal Shout Out. Mrs. Therriault and her students shared about the learning that happens on the farm with the partnership of Farm Friends, LLC in Big Rock, and Mrs. Slater and her 4th/5th grade choir were honored for their work in the elementary school Veteran's Day celebration and performed the Armed Forces Medley for us.
American Education Week, Day 4 (Thursday)- Oh The Places You'll Go! Wear a college shirt or dress like your future career. Grades 3, 4 & 5 are going to the symphony! They have been asked to DRESS NICELY for this special concert.
🎶Congratulations to our 5th grade band on a fantastic first concert this evening! 🎶
We had a beautiful Veterans Day assembly today. Thank you to our veterans for joining us- and to our choir for your wonderful performance. 🇺🇸🎶
All of HBR is celebrating American Education Week next week, 11/13-11/17. Please join the fun with the spirit days on the flyer! 🍎📚💙
We are looking forward to celebrating Veterans Day tomorrow, Friday, 11/10! 🇺🇸 All students are encouraged to wear red, white & blue. ❤️🤍💙 Veterans and their families are invited to join us for breakfast from 7:45- 8:30. Our assembly will be at 8:45. Families of our 4th & 5th graders choir members are invited to join us. 🎶 RSVP for our breakfast here:
https://forms.gle/W5JamRiNEgLhim2b9
Do you need winter gear? Do you have winter gear to donate? Maddie's Mitten March is coming to Hinckley at the Midwest Sportsplex.
On Friday, November 10 we will celebrate Veterans Day at HBR! In continuation of our tradition, we will host all HBR Veterans (family members or community members!) at the elementary school for breakfast and a special program in honor of our veterans. Please RSVP for breakfast here:
https://forms.gle/1PTdLSvMDjUnjCzi7
We would love for our school families to invite family members or neighbors/friends to our breakfast and program so we can honor all veterans! Thank you for spreading the word!
This Friday, November 2, will be Fall Picture Retakes. We will have the VanGogh photographer here at 9:00 Friday to take pictures of students who were absent previously AND to take pictures of students who would like a retake. If you are doing a retakes, you MUST return the previous photos on Friday. **PLEASE see the flyer in your email for ALL details about retakes and how to purchase photos. Thank you!
November Lunch Menu
Tomorrow/ Saturday is our FALL FUN FEST!! Come to school in costume- enjoy the haunted house/ hallway with or without lights- and be a part of the costume contest! The fun kicks off at 1:00 and goes till 5. See the flyer for details!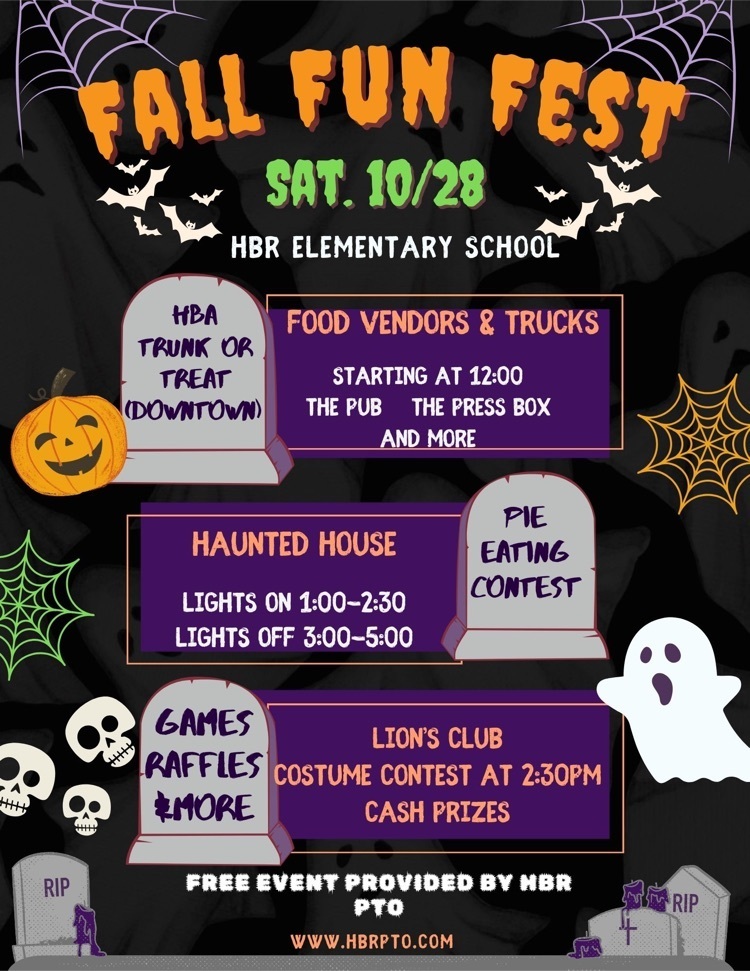 We want to say THANK YOU to our INCREDIBLE HBR community!! 💙🤍 Our walk-a- thon raised $7497! And our students and staff walked &/ or ran 1638 miles!! We are so grateful and sincerely want to say thank you all for participating!! Enjoy a few photos from our assembly today to celebrate our totals!
On Thursday, we had a blast at Not So Spooky STEAM Night! Thank you to all that joined us! Today we welcomed author Ruth Spiro to meet our 3rd, 4th & 5th graders. She taught us that WE can be experts in many areas and explain things to grown-ups! Thank you to our PTO for purchasing How to Explain Coding to Grown-Ups for each classroom teacher!! We are grateful for our PTO's generosity!! (If your student would like a signed copy of this book, they may buy it in the office tomorrow for $17.99)